NOW SNOM D715 COMPATIBLE
Although Cloud Talk is a software first solution, the SNOM D715 has been added as part of a series of proposed handsets for the Cloud Talk software suite. Whilst the phone isn't particularly rich in features, it does provide a perfect bridge between the transition from a standard telephone system to Cloud Talk. More compatible handsets are proposed.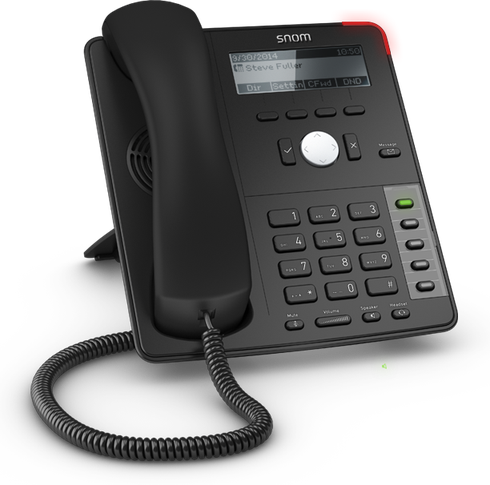 SNOM D715 Professional Business Phone
Elegant design
Four-line backlit B/W display
Dual Stack IPv4 / IPv6
WLAN ready
Gigabit switch
Wall mountable
5 configurable LED function keys
4 identities (lines)
Wideband HD audio
Hands-free operation/speakerphone
Power over Ethernet (PoE)
XML Minibrowser
USB Port
Sensor hook switch
4 SIP identities
IPv6
Black; 4039
The professional 700 Series Blackline telephones are aesthetically appealing, offering a highly practical industrial design to meet mission critical business requirements where the telephone is a key tool in every day work. These high performance devices provide the best in wideband HD audio, ensuring crystal clear sound quality, Bluetooth-compatibility, high definition displays, colour screens, support for programmable keys to ensure a continual overview of numerous extensions, a preinstalled certificate to enable secure provisioning without manual intervention, robust CTI integration to support security standards such as TLS and SRTP. The series meets all business budgetary requirements in five models from the entry level up to the executive office.
VISIT THE SNOM SITE OR SEARCH ONLINE
FOR MORE INFORMATION
More compatible handsets are proposed for the future.